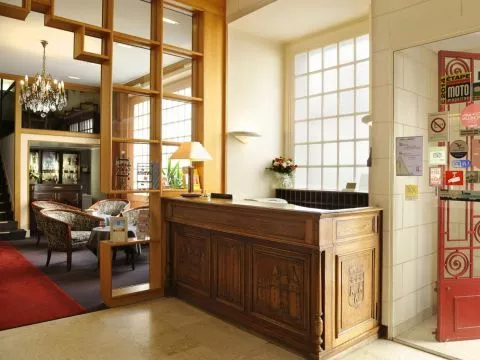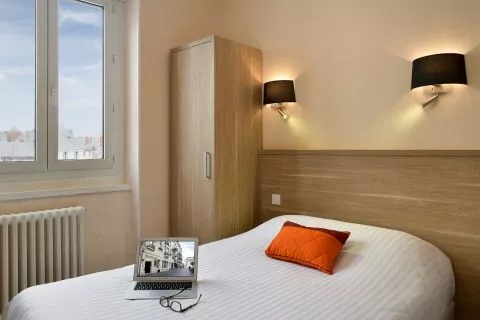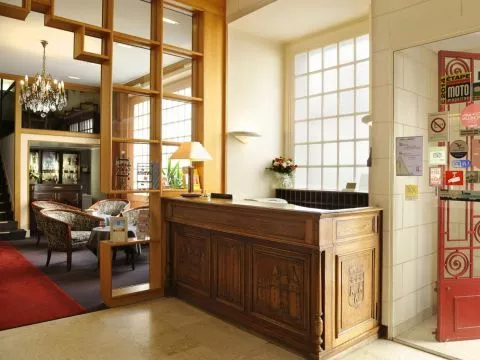 **Logis Hotel in the city center of Tours
In the beautiful medieval town of Tours, a convivial tourist stop on the road of the castles of the Loire ...
It is only 700m walk from Tours station, 200 m from the tramway and two steps from the historic heart of the capital of Val-de-Loire that the elegant facade of the hotel of the Hôtel des Châteauw de la Loire stands with its pretty wrought iron windows and balconies.
All the softness of Touraine life is here in the authentic family setting of our **Logis town center hotel.
Rooms at the best price
At your disposal: 30 contemporary and comfortable rooms, a lounge-bar area for relaxing moments and a dining room for breakfast.
Partner of motorcycle magazine and labeled "Loire à vélo", the Châteaux de la Loire hotel is pleased to welcome groups of "two wheelers" who can park with confidence in the secure garage and enjoy a personalized welcome.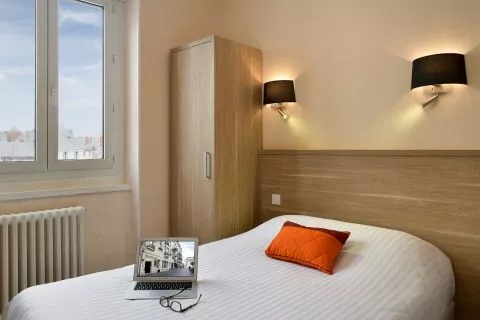 Business stop in the heart of Tours Relaxation area
For a "business stopover" or a tourist stay, your hosts, Franck and Virginia will be happy to advise you in the choice of restaurants, places and leisure activities.
Our privileged location offers, in fact, great opportunities for discovering Old Tours while enjoying the proximity of commercial activity with, amongst others, the Vinci Congress Center only 5 minutes away, but also cinemas, restaurants and shops ...
Activities around the hotel
Services & equipment
| | | | | | | | | | |
| --- | --- | --- | --- | --- | --- | --- | --- | --- | --- |
| Hotel in the city center | Non-smoking establishment | Business stopover (accommodation and breakfast buffet) | Lift | Newspapers | Reception 24 hours a day | Luggage storage available | Secure garage for bikes (motorcycle and bicycle) | Self-service children's accessories (booster seat, bath ...) | Paid public parking nearby. |
Hotel opening hours
Arrival: from 4:00 p.m. to 1100 p.m. overnight reception provided on pre-booking
Departure: from 7:00 a.m. yo 11:00 a.m.0